Interpreters
To Schedule an Interpreter, please call (213) 385 – 7781, or e-mail info@latranslation.com.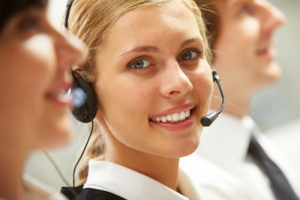 Rates vary by language, field, availability, and location. Please book in advance to reserve the best suited interpreter.
L.A. Translation and Interpretation, Inc. offers professional, accurate interpreting services.  Our certified interpreters are available for business meetings, legal depositions, court trials, medical appointments, government agencies, schools, businesses, international conferences, and tours.
Our certified interpreters have passed rigorous tests from the State of California to be certified as court, administrative hearing, and medical interpreters. They are certified as fully bilingual and competent to translate between the two languages. Rest assured, they are the best available and that there will be guaranteed successful communication. All have at least 5 years of proven business interpreter translator services at the conference level. LA Translation provides all three classes of interpretation services: Consecutive, Simultaneous, and Escort.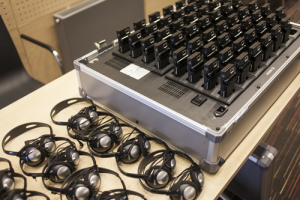 LATI simultaneous interpeting service is in high demand at business meetings, international conferences, and community meetings.  Where there are more than 20 people who are more comfortable with their own native language than with English, it is a good idea to provide simultaneous interpreting services.  The meetings can proceed without interuptions because the interpretation is done simultaneously and the attendees will be able to listen through wireless receivers.
LATI provides a comprehensive package.  We have a pool of well trained simultaneous interpreters.  We also can provide a soundproof glass tabletop booth, transmitter, interpreter's console, and receiver for each of your listeners.  Our equipment can accommodate up to 16 languages and an audience of unlimited size.  LATI provides regular services to UCLA, USC, LA County Mental Health Services, FBI, and Consulate General of Mexico, among others.
Court interpreting requires rigorously trained interpreters, and LATI has a school dedicated to the mission of training court certified interpreters in Arabic, Chinese, Korean and Spanish.  Our court certified interpreters work at attorney-client meetings, depositions, trials, arbitration, mediation, and legal translation for both criminal and civil cases.  We also provide interpreters for immigration and citizenship interviews.
Call 213-368-0700 and you will have an interpreter over the phone for any language, including the most exotic ones.
Ask LATI for interpreters to escort you to tours and business meetings. We can provide a local interpreter at your destination.
With Obama Care, demand for medical interpreters is increasing.  Certified medical interpreters should be provided for the patients who don't speak English well.  LATI has a school that trains interpreters to become nationally certified.  For more information, contact us.
<<Languages covered>>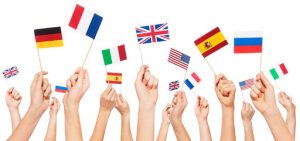 European:
Armenian, Bashkir, Bosnian, Bulgarian, Catalan, Croatian, Czech, Danish, Dutch, Estonian, Finnish, Flemish, French, Georgian, German, Greek, Hungarian, Icelandic, Italian, Kurdish, Latvian, Lithuanian, Macedonian, Norwegian, Polish, Portuguese, Russian, Romanian, Serbian
Asian/Pacific:
Australian, English, Bengali/Bangla, Burmese, Chinese Simplified, Cambodian, Chinese Traditional, Fijian, Hmong/Mien, Indonesian-Bahasa, Japanese, Khmer, Korean, North Korean, Laotian, Malay, Marshallese, Tagalog, Thai, Tibetan, Vietnamese.
Eurasian:
Azerbaijani, Belarusian, Kazakh, Kyrgyz
Indian:
Assamese, Bengali, Bhojpuri, Dari, Dogri, Gujarati, Hindi, Kannada, Malayalam, Manipuri, Marathi, Mizo, Nepalese, Oriya, Punjabi, Pushto, Sanskrit, Sindhi, Singhalese, Tamil, Telugu, Urdu.
Americas:
American English, Brazilian Portuguese, Eskimo, Guarani, Haitian-Creole, Nahuati, Spanish (Latin), French Canadian.
African:
Afrikaans, Amharic, Bushman, Damara, Dinka, Hausa, Igbo, Kikuyu, Malagasy, Masai, Ndebele, Oromo, Pedi, Shangane, Shona, Siswati/Swazi, Somali, Sotho/Sepedi, Swahili, Tshivenda, Tswana, Twi, Venda, Xhosa, Xitsonga, Yoruba, Zulu.