Interpreting Equipment Rental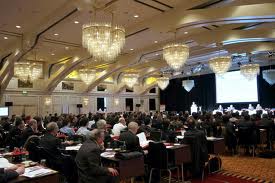 LA Translation and Interpretation provides simultaneous interpreting equipment for daily and weekly uses.  The equipment is used in business meetings, international conferences, community meetings, academic seminars, international conferences, and even personal gatherings where there are participants who do not speak English.  Since consecutive interpreting takes too much time, simultaneous interpreting can save time and provide better communication which are so important in the success of those events.
Call 213-368-0700 to reserve equipment or send an email to: info@latranslation.com.
Transmitters and Receivers
PPA T35 FM next generation 87-channel base-station transmitter with displayLATI rents T35 transmitter with a powerful microprocessor, sleek digital display and easy-to-use menu controls.  It operates up to 1000 feet and is ideal for auditoriums, stadiums, theaters, or other large venues.
Rent for $50 per day
 
PPA T36 Body Pack Transmitter, 72-76 MHzFor meetings of less than 50 people, the portable transmitter is recommended.  It is ideal for classrooms, tour groups, employee trainings, small business meetings, school events, community events, and personal gatherings.
Rent for $50 per day
PPA R35N single channel WB 3V receiver with belt clipThis impact-resistant receiver is good when one language interpreter is required.  It includes two AA    alkalione batteries for 100 hours of long lasting operation.  It features a volume control/on/off dial, earphone jack and LED power indicator.  For more than two languages, LATI uses PPA R35-8N-8-Channel WB 3V receiver with belt clip.  It can operate up to eight channels simultaneously on the 72-76 MHz bandwidth.  The receiver features crystal clear audio and digitally synthesized frequencies for rock solid tuning.
Rent for $7 per day
Interpreter's consoleInterpreter's console allows the interpreter to hear the speaker clearly through a headset, which is vital in delivering accurate interpreting.  The IC-1 interpreter's console features a microphone mute, floor relay, key and normal controls, dual microphone and headphone connections, and dual volume controls.Rent for $50 per day
Soundproof Desktop Booth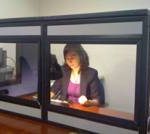 For most meetings and conferences, a soundproof desktop booth is an ideal equipment to keep the interpreter's voice from bothering the participants.  It can accomodate up to 2 simultaneous interpreters.
Rent for $180 per day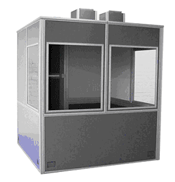 Full Size Booth
For larger conferences of more than 500 people, LATI recommends Audipack Silent 9500. It is a standard for 2 simultaneous interpreters, but optionally expandable to 3-4 persons.  It is designed to ISO-4043 standard and is consisted of 13 wall panels, 2 roof elements, 2 floor elements and table.    Rent for $400 per day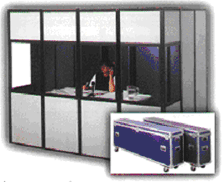 Whisper Cube
Multi-Caisses Whisper cube is available in multiple sizes and shuipped in ATA style containers for complete mobility.
Rent for $800 per day
Technician to Set up and Strike down   LATI's technician will set up the system and stand by to respond to any trouble that might occur:  $350 per day.
Contact Us
to make a reservation today.